Instructive Time:
How to make mate
A small and quick inphographic on how to make mate in the traditional way
As we already know, this is one of the most popular ways to consume yerba mate. The drink is an infusion prepared in a container, in which hot water is poured with the procesed plant, and it should be drink through a Straw.
 ➛ If you want to know more about this infusion, it's story and benefits, you can go and read  Why is mate so important in Argentina?
So, now with our Mate Cup, Straw, Yerba Container charged, and Thermo filled up, lets begin.
Step 1
Put yerba up to three quarters of the mate with your yerba container. Cover the top of the mate with your hand and shake it. You should leave a smaller amount of yerba at the base and more near the ferrule, forming a "little cliff".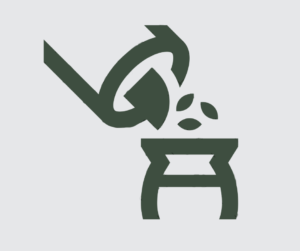 _
Step 2
Grab your thermo and serve water in the part with the least amount of yerba, where the straw would go. Then, let the mate rest for a minute. This'll let the yerba absorb an enought amount of water, in order to not pour an excess of it. After a couple of minutes, continue the serving in the wet side of the mate, keeping the other side dry.
_
Step 3
 Place the straw on the wet side of the yerba, covering it with your thumb so that no air enters in it.
And now, you are ready to go!
_
Step 4, add your own personal touch
Argentinian Mate symbolizes camaraderie, generosity, invitation and hospitality. And there's as many ways of drinking this brebage as much as many people on earth. Doing it on your own at the afternoon can be a peaceful rest from everyday life. Gathering with friends or family around this infusion can become a time to talk and reflect on any topic.
➛ You can also check out our  Instructive Video
Find your mate, and incorpore this infusion in your daily life, your own way